About ghosts, Warsaw of the late 1940s and the influence of the past on our life choices, Marek Teler talks to Magdalena Zimniak, the author of Piwnica .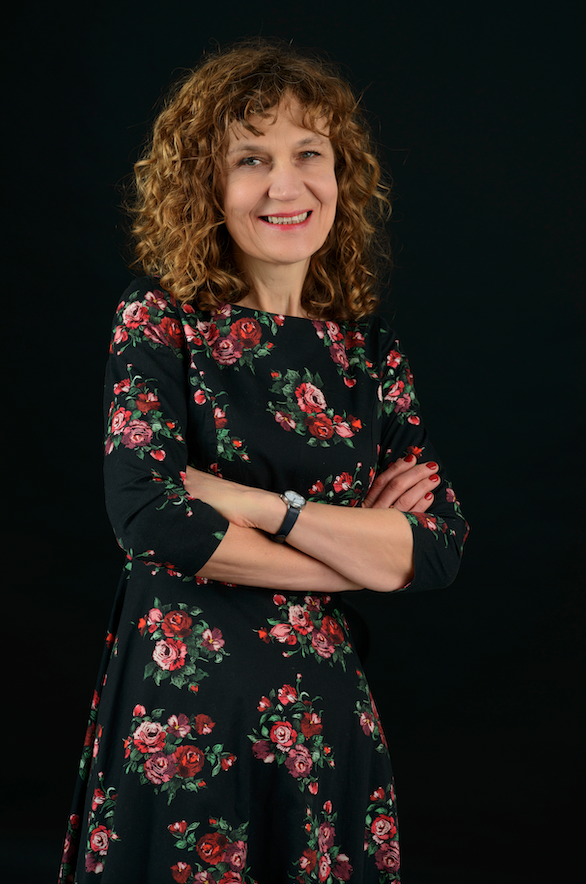 photo. Konrad Koczywas
Marek Teler: Your latest book Piwnica is a chilling story about the building of a housing cooperative at al. 3 Maja in Warsaw, whose basement is haunted. What made you decide to write a book about ghosts, where modern times are intertwined with the past?
Magdalena Zimniak: I don't consider Piwnica to be a chilling story, I would rather say that ghosts give my story a sense of anxiety, a thrill that one feels when meeting the unknown. The language school I run is located in the building at al. May 3 in Warsaw. A few years ago, two security guards reported hearing unexplained moans and gasps, and the elevator began to run on its own, descending below ground zero, where there is no shaft. They said it repeats itself. They decided to spend one night in the car instead of at the porter's lodge and refused to work at the cooperative. I talked to the cleaning lady, who said that several decades ago there were similar phenomena, but after the president brought a priest, everything calmed down. Such a story affects the writer's fantasy. I carried it in me for quite a long time and finally decided to describe it. The building is old and I came up with an explanation from the 1940s. It was created only in my imagination, but if someone said it was haunted again, I would certainly see my characters.
MT: Warsaw is a city particularly affected by World War II and the terror of Stalinism, so at every turn we find places where someone died years ago. Do you believe in the existence of ghosts, signs "from above" or some energy of the dead that remains on earth?
MZ: I have never experienced such signs. No spirit has contacted me, although when you lose a loved one, you want to be contacted. At least I do. It would be beautiful if we could receive signs from above or be sensitive to the energy that remains. Or would it not be? People are afraid of ghosts. After all, we get goosebumps when we read and watch horror movies. But in most of these types of productions, the intangible world is a threat. Someone once said that I am different. The ghosts in my novels are cool, and the monsters are the living.
Warsaw is indeed a place where hundreds of thousands of people have been killed and hundreds of thousands more harmed in other ways. I live in Powiśle, where my company is also located. Every day I pass the place at Drewniana Street, where on September 27, 1944, in the insurgent hospital in the building of a primary school, the Nazis organized a slaughter. There is a commemorative plaque, sometimes a candle or flowers. Mainly on the anniversary. Most people don't pay attention, it's just a backdrop, less noticeable than fancy restaurants or modern shops. The dead can no longer claim justice. The living must take it upon themselves. Even if they are not aware of the operation of unexplained forces, I do not rule out that such forces exist, affect the subconscious, help. I also do not rule out that there are particularly sensitive people who establish a conscious connection with incomprehensible energy.
Answering the question, I cannot say that I believe in this contact. Faith is more than allowing for possibilities.
MT: Piwnica is a psychological novel with crime and horror elements, but at the same time a story about family secrets that affect the lives of the main characters, Rafał and Aneta. Do you think that the fate of our ancestors has a significant impact on our life decisions and choices?
MZ: The events we go through, the choices we make shape us as people. We do not live in a vacuum, and our traumas or fears, even unspoken, leave a mark on those closest to us, mainly on children, because they are the most flexible. Yes, I believe that the fate of our ancestors has an impact on who we are, how we behave and what we choose. I find that perfectly reasonable.
MT: What sources did you use when creating the historical part of the book, set in the times of the Warsaw Uprising and the beginnings of People's Poland?
MZ: Just before writing Piwnica , I read Marcin Zaremba's excellent book Wielka Trwoga . I also used many studies found on the Internet, for example by Waldemar Kozyra from the Maria Curie-Skłodowska University in Lublin. I used to visit historical websites, such as Histmag.org or Dobrze.pl, but I also visited vlogs or read articles published by major news portals. My mother was a small child in those days, but she often talked about the atmosphere of fear and hunger. The biggest delicacy were mashes made of flour and water, sometimes seasoned with onion. Even so, she remained a child and played, sometimes with nothing in her stomach. My fascination with that period began with the stories she told.
MT: In your novels, there are very often references to issues that Poles live with today - in Protest it was a verdict of the Constitutional Tribunal, in Piwnica there is a theme of the war in Ukraine. In your opinion, does this increase the author's credibility, bring him closer to the reader?
MZ: In Protest the reference is really strong, while in Piwnica it appears only towards the end. Do these references bring the author closer to the reader? Honestly, I have no idea. I don't calculate that way. If I write about something, it's because I think it's important. Something hurts me, angers me, evokes horror or admiration.
MT: Historical novels have recently become more and more popular, and historical threads - as we can see in Piwnica - also appear in thrillers and psychological novels. Why do you feel that there is so much interest in this literary genre?
MZ: I don't know the statistics. There is a lot of talk about camp literature, the popular one, in the bad sense of the word, flattening, untrue. As Hania Cygler made me realize, reportage books are equally dangerous, with all sorts of distortions. Maybe even more. We expect reliability and historical truth from the reportage. When it comes to this topic, Majgull Axelsson's novel I am not Miriam, published a few years ago, was a revelation to me. I would explain the growing interest in history books for two reasons. The first: we are tired of the present and we need a detachment, immersion in other times. Second: we are fascinated by analogies with the past. In these novels we see ourselves and the events that still haunt us. History comes full circle.
MT: As I have already mentioned, Piwnica is also a story about the gloomy Warsaw of the late 1940s, hiding many secrets and unexplained mysteries. What fascinates you most about our capital – its architecture, history and landscape?
MZ: I was born in Warsaw and live here with breaks for episodes in London and Washington. I love Warsaw, mainly because it is my city and my own history is inseparable from it. Since childhood, I like walking around the Old Town. Dad told me how carefully it was rebuilt according to the preserved plans. We often stood in front of the place where the Royal Castle once stood and waited for it to be brought back to life. When it finally stopped, it was a personal joy for me.
I also like Łazienki, which thanks to my dad's stories inseparably reminds me of King Stas and Thursday dinners, but also of squirrels, peacocks and carp. And with fun. I like the splendor of Wilanów and associations with the love of King Jan III Sobieski and Marysieńka. I loved going to the Vistula long before modern boulevards were built. I stayed here with my boyfriend, who later became my husband. We still come here if we find a moment for a walk. I like Powiśle, which has undergone such an amazing metamorphosis. I like the atmosphere of Warsaw cafes and lunches in restaurants with my fellow writers.
I love Warsaw from 19th century novels, but I also love the city as it is now. With all the bustle, crowds and traffic jams. And silence in the parks. I also like that the network of bicycle paths has been expanded, because the bicycle is my main means of transport.
MT: You have written not only psychological novels and thrillers, but also moral novels and stories about love. What other genre would you like to – or maybe already plan to – test yourself in?
MZ: Really? I have never defined the genre in which I create. It was later that readers called my books thrillers or psychological novels. Using these terms, I answer if someone asks what kind of books I write. The stories were created for the anthology, so there was indeed a premise: love, erotica, detective story. If someone insisted, they would probably find a mixture of genres in each of my texts. I somewhat identify with Sebastian Fitzek, who said that when all publishing houses rejected his first novel, Therapy (one of the writer's best works, in my opinion), on the grounds that they saw no place for a thriller on the German market, he thought to himself (I quote from memory) ): Well, well, Fitz! You wrote a thriller! . I would rather not add science fiction to the mix of genres in which I write, because I lack the scientific knowledge to write convincing novels of this type.
MT: Could you tell us more about your creative process – do you have any writing rituals or habits?
MZ: Of course. First of all, I drink hectoliters of coffee. It's not even about feeling awake or aroused. A few years ago I learned to make myself very weak, so the taste is not very intense. Despite this, the connection in the brain remained: there is coffee, you can write. The coffee is over, it's time to make another. I always have my computer on and sometimes I type directly on the keyboard, but often I reach for a piece of paper, printed on one side, and jot down my thoughts. Later, I transfer them to the computer, making the first correction at the same time.
When it comes to the order in which the novel is written, there is a plan first – not very elaborate and mostly in the head. I know the characters and their dominant traits and the most important events. Then I start writing. The plots, of course, develop, the characters become more complex. It happens that my concept changes, the story takes a different direction, sometimes the ending is different. I send the novel, usually in several parts, to my friend and first reader Marcin Gutek. I'm addicted to his opinion and I can't imagine writing without his priceless comments. When I'm done, there's a tedious process of re-reading and revising. By the end, I'm so tired of the text that I send it to the publisher, knowing that a lot of things still need to be improved.
MT: What are your publishing plans for the coming year 2023?
MZ: In the first half of the year, Skarpa Warszawska is to publish my new novel, which is probably the purest psychological thriller I've ever written. A young English teacher takes evening classes and disappears without a trace. A similar situation happened when the heroine was a teenager. Did she run away or was she kidnapped? And if she's being held, by whom? Is the same person behind the disappearance fifteen years ago and now? As with most of my books, a lot of hidden secrets, mental disorders and traumas.
Magdalena Zimniak – author of psychological and moral thrillers, winner of many awards, recognized by readers. Varsovian by birth and by choice, educated in English, runs a language school. Privately, a happily married woman and mother of two daughters.